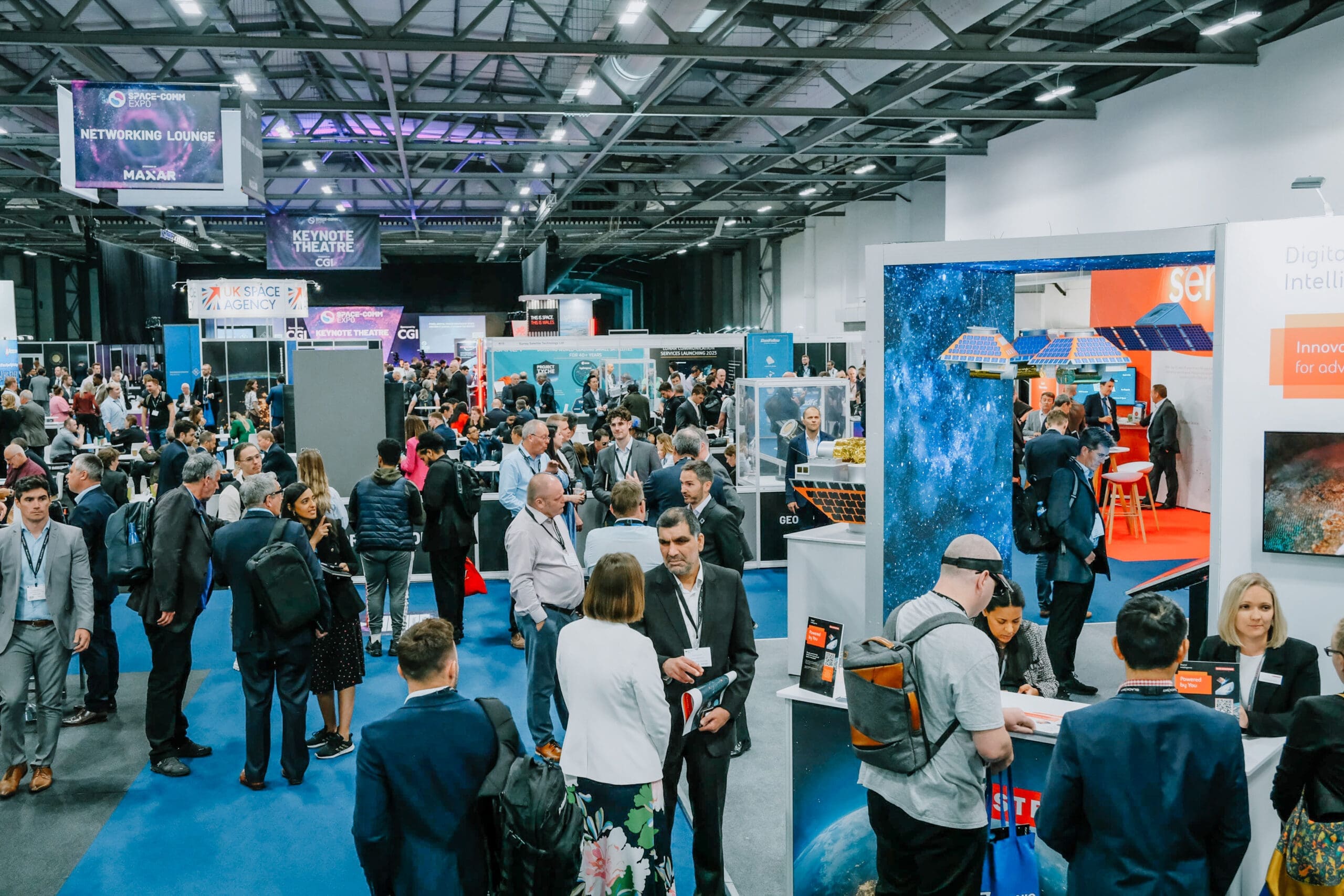 UK space industry signals exponential growth at Space-Comm Expo
22nd November 2023
The UK space industry proves its thriving on the global stage, with millions of pounds in funding, record-breaking industry turnover and new innovations announced at Space-Comm Expo 2023.
Representing a sector that directly employs 48,800 people, including 2,300 apprentices, Space-Comm Expo welcomed thousands of space professionals, organisations, agencies and government officials from 34 countries to Farnborough International Exhibition & Conference Centre 7-8 June 2023.
Organised by Hub Exhibitions in partnership with Farnborough International, Space-Comm is the UK's biggest space-focused exp with a presence of over 150 exhibitors and 100 keynote speakers and experts across the programme. Cementing its position as the UK's leading and largest space exhibition, Space-Comm Expo is a valued opportunity for the space sector to build new partnerships and announce new projects and investment.
Discussing the vitality of the UK space industry and the role Scotland plays in the sector, Richard Lochhead MSP said: "It was great to speak at Space-Comm Expo and meet businesses and industry leaders to discuss the future of the space sector, which is opening up new frontiers for humanity, our planet and the economy.
"It is a hugely exciting time for the space sector, especially in Scotland, and we are scheduled to have the first vertical orbital launch from European soil later this year.
"The Scottish Government is fully committed to ensuring that we help the sector reach the highest heights, as we aim to become Europe's leading space nation by 2030."
According to a new Space Sector Outlook by ADS Group in partnership with UKSpace, the UK's space sector added £7 billion in value to the UK economy in 2022, while turnover from space organisations reached £17.5 billion and products and services exported by the sector grew to £5.9 billion in the same period.
UK Space Agency announced its £6.6 million funding for a range of international science partnerships and STEM education project. The first nine projects selected for funding from the bilateral programme will link UK organisations with the US, Japan, Canada and Europe, using £2.3 million UK Space Agency funding to develop collaborative proposals for new space science and exploration missions. Meanwhile, the Space to Learn programme will channel £4.3 million UK Space Agency funding into four major educational projects.
In addition, global communications company Viasat announced it was selected by the Air Force Research Laboratory (AFRL) Space Vehicles Directorate (RV) to provide on-orbit space relay connectivity for its ARBALEST program, which aims to support a future space-based demonstration of operational capabilities for the Department of Defense (DoD).
Astronaut Tim Peake opened the show's programme with a valuable discussion on the need to drive interest and innovation to grow the future workforce of the space industry, and was joined by the likes of Minister of State For Science, Research & Innovation George Freeman MP, UK Space Agency's CEO Dr Paul Bate, Director Of Commercialisation, Industry & Competitiveness at European Space Agency (ESA) Geraldine Naja, UKSpace's President Dr Alice Bunn and Minister for Small Business, Innovation And Trade Richard Lochhead MSP on stage throughout the two-day event.
Commenting on the success of the expo, Rob Sherwood, Managing Director of Hub Exhibitions, said: "It has been an incredible two days converging professionals from all over the space ecosystem at Space-Comm Expo. As the industry continues to accelerate, the show has seen exponential growth over the last three years, proving the appetite, interest and value of the UK space sector and Space-Comm's pivotal role in the global market as a place where business is done.
"We are proud to work with our valued industry partners, such as Farnborough International, ADS Group, UKSpace, UKSpace Agency, KTN and ESA and I'd like to extend thanks to our exhibitors, partners and attendees for their continued support. I look forward to welcoming the industry back to Farnborough March 2024."
As well as providing thought leadership across the Keynote stage, features including the Start-Up Zone, Future of Space Theatre, Small Sats Theatre and Meet The Buyer enabled start-ups, SMEs and industry-leaders to network with investors, regulators and academics to collaborate and discuss actionable change for the future of the space industry.
Space-Comm Expo will return to Farnborough International Exhibition & Conference Centre 6-7 March 2024. Register now for your free tickets to attend: https://eventdata.uk/Visitor/SpaceCommExpo2024.aspx?Trackingcode=BLOG
Back to content